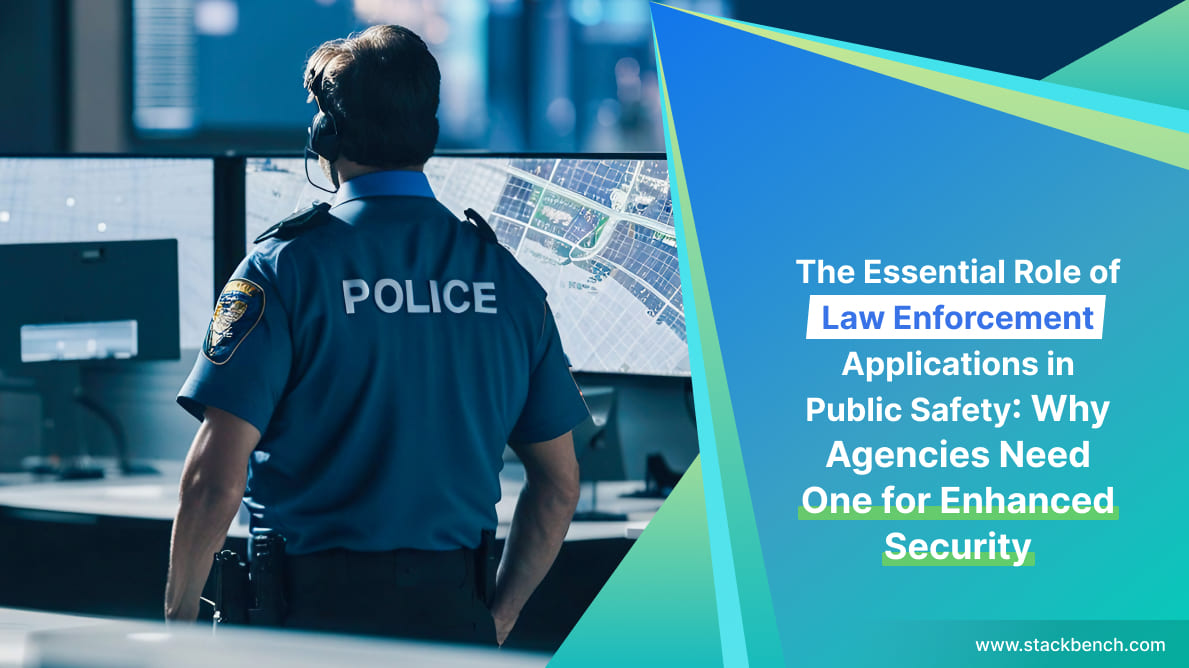 To provide a higher level of public safety, and increase security and safety for officers, local law enforcement must interact and communicate with the citizens of their communities. Social media is one way to achieve this effectively, as well as other forms of announcements or notifications departments may have to make. Another way to enhance public safety is through direct and easy communication within a police department. However, it can be difficult to implement notifications to the public or inside a department quickly, and effectively while still maintaining safety and security. That is why it is beneficial to use law enforcement applications. The right law enforcement app can serve as a crime prevention tool as well. The Unified Communication Platform (UCP) application from StackBench has made this task much easier for police departments. With just a few easy steps, a law enforcement agency can make an announcement to multiple platforms simultaneously. This way, citizens can immediately be notified of potential danger or if there is a heavy police presence in a particular area of their city. The ability to make expedient announcements increases public safety as a whole. The more quickly information is given to citizens the faster they may become aware. For instance, if there is a vehicle accident that is taking up many lanes, local law enforcement can use the UCP app to let their community know. This way the public can avoid the area which also increases officer safety as well. As easy as it is to send a text message, an officer can send out an announcement to the public or a civilian can contact police.
Network Enhancement
By implementing a police department app into an agency's network, more information can be given out conveniently, quickly, and effectively. The more citizens are aware of incidents occurring in their community, the safer the community becomes. With the use of a crime prevention application such as StackBench's UCP, citizens can also communicate easily with police. In addition, the UCP application also allows the public to provide information and tips to their local law enforcement via video or text message. For example, if a citizen witnesses a fight in progress, they can send their exact location to the police or even record a video in real-time to upload into the app. Users can also remain anonymous should they wish to. This is advantageous as often people wish to report an incident but do not want to become involved. Having a feature that allows citizens to upload information that may result in an apprehension of a subject increases the level of safety for the community. Response time can also increase with the use of a police app. The UCP application can pinpoint exact GPS coordinates through the TIP function. This means no guessing where the vicinity of an incident may be occurring, instead, police will know exactly where to go in seconds. Having the exact location at their fingertips means police can respond much faster to a call. Quicker response time means a potential increase in safety.
Crime Prevention
Implementing a law enforcement application into a department's everyday use increases public safety and decreases criminal activity overall. The UCP police department app is a crime prevention app in addition to an effective communication tool. With the touch of a button, citizens can report crimes in real time, and police may respond much more promptly since they receive the information in a faster form. Additionally, law enforcement can warn their citizens of potential dangers which in turn increases situational awareness. Situational awareness should be practiced by not only law enforcement officers but by civilians too. When an individual is situationally aware, they are in tune with their surroundings and what is happening around them. This mindset helps in many ways and having an accessible law enforcement app enhances this. The more an individual knows what is going on around them, the more vigilant and observant they will be. The more the public notices regarding a situation and the more the public relates that information to the police, the better and more prompt the response will be.
Trust and Closing Gaps
When communities interact with their local law enforcement, it not only bridges a gap but also creates trust between citizens and law enforcement. A police app can close a gap that may be between law enforcement and their communities by sending out important information to the community instantly. At the same time, it can enhance communication within a police department. As a result of mutual trust, there is an uptick in situational awareness and vigilance. The more information given to police, the better. This is why using an application is so effective, it allows several citizens to report at one time. This then provides law enforcement with more information than they would have from one or two callers. Utilizing the application also means the local law enforcement agency can acquire the information from the public much more quickly. With an application, the information is received instantaneously. The average response time for law enforcement varies. The variation in time is due to many factors such as traffic, weather, and the amount of available personnel. However, every second counts in police work, and having a police application that provides easy and clear communication, results in faster response time, heightened situational awareness, and an increase in public safety is imperative. Another advantage of implementing an application in a police department is that all communication and correspondence that goes through the application are encrypted to ensure security. This is extremely advantageous since often criminals have their own police scanners and try to keep track of law enforcement and where they go. With the use of a law enforcement app throughout a department, all information may be secure and encrypted which in turn increases officer safety. The application from StackBench is also compatible with both Android and iPhones. The UCP application is completely free for the public, and it is budget-friendly for law enforcement agencies. This way everyone may use the application no matter what type of phone they have or what their budget may be.
Inter-Department Communication
Finally, in implementing a police application such as UCP for Police Departments, agencies can communicate with personnel within their department as well. For example, with the UCP application, a supervisor can directly message their subordinates, individually or as teams, through the app and even get an alert when the recipient has read the message. This provides an easy way to communicate, which in turn means police officers will receive important memos much more quickly than before. For example, if there is an incident that occurs on another shift, with the use of a law enforcement application, supervisors can relate information to the officers coming on shift promptly. The ability to send out department-wide announcements or even announcements to a specified person or unit from one application is a huge time saver. Having the ability to conveniently send imperative information within the department not only makes communication easier but also due to the feature on the UCP application which lets the sender know the person they sent it to receive it and at what time they have viewed it. This feature keeps personnel accountable and ensures their supervisors have read the memo with important information. By implementing a police application into daily operations, law enforcement can keep up with memos and supervisors can send out other important announcements for personnel directly.
Connecting
An application such as UCP provides the public with a faster, more convenient way to communicate with their local police. It also provides police with a way to effectively reach out to the public they protect and serve. Applications are everywhere and are an integral part of the world whether it be for social or business purposes. Police departments can now join in using this type of technology to make their departments and their respective communities better and safer. In a world of technology that is constantly changing, a law enforcement application helps departments step into the present and future of policing. With the UCP App - Police App, Sheriff's App, Fire App - you get reliable, efficient, and effective communication with your community. Check out our website and register for a demo today.