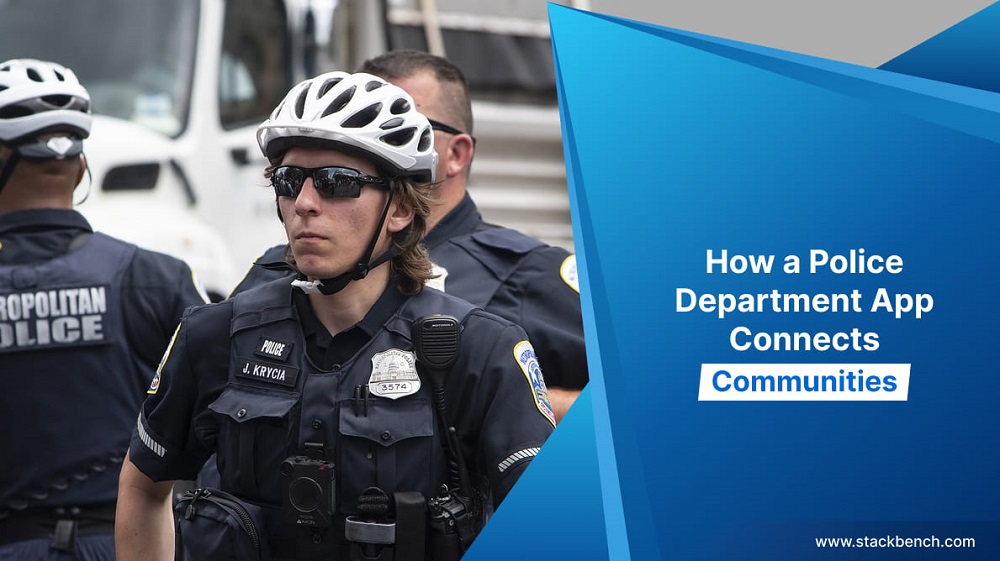 One of the largest challenges law enforcement and their communities face each day is communication. Combine that hurdle with missing information, and there is a real problem. The goal of law enforcement is to maintain a safe environment for their respective communities. This includes working with the public to enhance situational awareness and potentially respond to calls in a faster and more efficient way. Presently, the majority of law enforcement agencies are facing a severe decline in staff, and the rate continues to drop. Fewer boots on the ground means longer response times which decreases public safety as a whole.
What if there were a solution that was easy, efficient, and secure? What if that solution came in the form of a phone application? StackBench has developed a Unified Communications Platform (UCP) application, a new communication app for Police department that connects law enforcement and citizens directly. UCP may be used efficiently and securely on any smartphone, potentially increasing response time and safety overall. Furthermore, UCP is affordable. Budgetary restrictions are a yearly challenge law enforcement faces. When budgets are increased, they are often used for specific purposes which leaves out new technology. However, with UCP, departments do not have to sacrifice other equipment needs.
"Affordable, modern, technology is rare in the law enforcement vertical," says Anoop Menon, President and CEO of StackBench, a Confianz Global, Inc. company. "Most agencies are running with outdated solutions which don't have the involvement of the most important entity, the citizens they serve."
Another huge advantage to UCP from StackBench is how user-friendly the application is. Often, learning how to navigate a new software program is frustrating; for first responders, there simply may be no time to incorporate that type of training into their day. The company took this aspect into consideration and asked many Chiefs, Sheriffs, and deputies nationwide to understand their daily obstacles. This information was gathered during the development stage of the application. As a result, they were able to improve the product with the best and most efficient features from the beginning. For law enforcement, the app allows information from the public to be collected in a faster way. This is because UCP has a tip feature that enables citizens to report what they see in real-time. Additionally, this may be done anonymously. "Most citizens are hesitant to pick up the phone, dial the non-emergency number, and be on hold until they find the right person to submit a tip," said Menon. "We live in a digital world where more Americans have a smartphone or tablet than a computer at home." This not only means just about everyone in the public may use the app, but just about everyone may use it easily since they are already comfortable with that type of technology.
Also included in the "submit a tip" is GPS coordinate information. This information may be passed to law enforcement when the citizen reporting the incident or tip clicks the GPS button. For law enforcement, this decreases response time significantly. No more waiting for dispatch to ping a phone. Instead, within seconds the local law enforcement agency will know not only what is happening but where. There is also an area to upload a video if a civilian records what is taking place. This is yet another way that increases results because if a video or photo is uploaded as well, officers will have an actual picture of the suspect and not just a verbal description. From there, an instant email alert with a time and date stamp is sent directly to the appropriate member of law enforcement. This particular feature is completed through administration and their chosen settings on the application. Administration may customize certain settings such as choosing groups of officers or units to receive information. For example, if a member of the department's administration categorizes email alerts by unit they can send information directly to detectives, narcotics units, swat teams, etc. with the click of a button.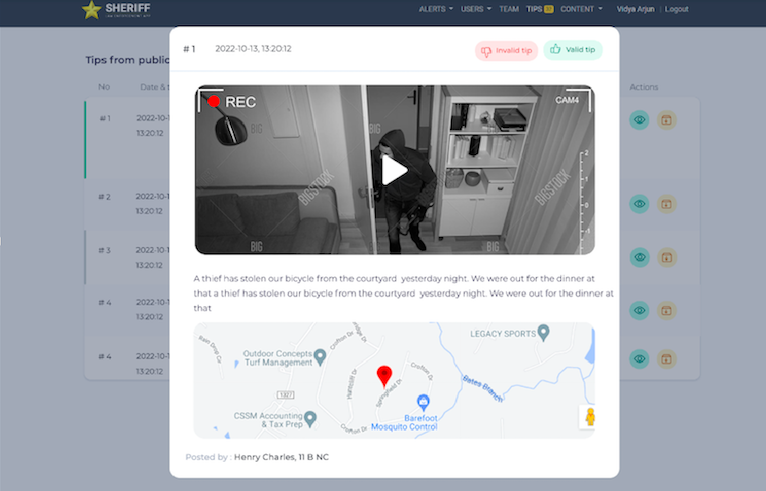 Not only is UCP extremely helpful, but it is also a secure platform. All information passed through the app is for the eyes of sworn law enforcement only and is encrypted to keep it that way. There is often a concern in the world of public safety of information getting leaked in some way, shape, or form. Especially in today's world when there is an increase in cybercrime and more criminals have their own police scanners, there is more of a demand than ever to maintain security in all police operations. StackBench has made this possible through UCP and encryption. This may bring peace of mind to law enforcement personnel and to the citizens they serve. One challenge departments often face is the amount of information that comes in. Traditionally, calls are put through to dispatch, whether it is a non-emergency situation or not. From there, the dispatcher enters the information into the department's RMS system all the while relaying that information to officers on duty. With UCP Police App, the information is stored and then quickly given to the appropriate personnel. This again helps the public since the information they are submitting will be given to the right person much more quickly than before.
In turn, law enforcement officers can post announcements through the application. UCP Police App is able to merge with certain social media platforms so officers can put out a BOLO or provide the public with a safety alert. The public then may be immediately alerted to a situation that allows them to avoid a particular area and remain safe. Finally, StackBench has tailored the UCP Mobile app for Police Departments specifically for the type of department that is using it, i.e. sheriff or police department. Since both types of agencies have somewhat different roles due to their jurisdictions, the UCP Police application is able to accommodate either type with a specific application designed for both types of agencies. As a result, this increases the safety of both county and city jurisdictions. Having an easy, efficient, and secure application that is designed for a specific type of department lessens the chance of miscommunication and assists officers in serving their communities in a greater way.
The Best Mobile App for Citizens and Police – UCP Police App
In order to get the most reliable, efficient, and effective communication with the community, consider adding UCP. Check out our website and feel free to reach out with any and all questions you may have. Public safety is at the heart of every law enforcement agency, and now that can be enhanced through a secure app.
Get the UCP App: Individual citizens can download the app, which is available on Apple [Police app for iPhone] and the Google Store [Police app for Android]. Once they do, they will be able to communicate with their local police department and individual officers.